Home | Killed Trans Am Archive | Trans Am Parts Hopper | Trans Am Tech Talk | Bandits | Sky,Red,Yellowbirds | Hoghead Store
Hoghead Garage | Island of Misfit Trans Ams | Hoghead's Excellent Adventures | Ultimate Restoration | Fun | Links
| | |
| --- | --- |
| | Hoghead's Fun Page |
We strive to put fun things on our web site, when we have time. You can find most of that material on this page.
April Fools Pages
For several years, we've had special versions of the site for April Fools Day. The car ad below appeared on our site April Fools Day, 2003. We're still getting emails asking if it's still available.....

FOR SALE: RARE 1978 TRANS AM Y88 GOLD S/E CONVERTIBLE


Original Press Photo from September 1977 courtesy of Sneedville Post-Bugler
A Real Head Turner!

This car turns so many heads that local chiropractors will thank you for driving it! Every eye will be on you when you drive through town in this one-of-a-kind Y-88 Convertible! Specially built for the Sneedville auto show in late 1977, this rare Corporate Production Order (COPO) prototype was commissioned by Pontiac and built by famed Russian-Italian automotive designer, Loptoff Daruf. Supposedly destroyed, and rumored to be buried at Graceland, this rare piece of automotive history was recently discovered hidden in a tobacco barn in East Tennessee. This car is a must for any person!!!!!
This is your big chance to own a one of a kind famous show car!!!! We really wanted to keep this car, but we need the money for aluminum siding!!!


Team Hoghead photo taken after removal of this rare Trans Am from barn in Sneedville
Back in 1977, the automotive press just went wild about this car:
"Approaching Japanese quality" - Consumer Retorts
"Biggest thing to happen at the Sneedville auto show in years" - Sneedville Post-Bugler
"Approaching German quality" - Car n' Track
"Will Pontiac ever let production of this Golden Hind end?" - Autoday
"What this car needs is to have the shaker screwed to the hood" - Popular Hot Rod
"We want to smoke da tars 'till she pukes a rod, uh, I mean, what a delightful product" - Motor Friend
"A topless Y88 Gold S/E? Send one to our table…" - High Performance Ponyack
This highly rare desirable collector's item has been fully restored in our shop. The restoration of this car has been featured in several High Performance Ponyack tech articles, including:
Got Bondo?
Screwing your shaker to the hood - Phillips or Flat?
Selecting a trash can to throw your air conditioner in
Lighten up for race day by emptying your ash trays
Hoods pins - Is two really enough?
Reinforce Pontiac seats to hold up fat guys, using many products coincidentally advertised in our magazine
Jim Rockford Fosgate stereo install using a Milwaukee Sawzall and hardly any dynamite

- and -

Cut holes in your floorboards and find the cage nut in only two tries
Please note this is an all maxed out race-ready performance engine capable of 600 hp running on vegetable oil please do not bid if you are not going to take care of this awesome car this is a very fast car a real head turner everything is new totally restored using all NOS parts (from Norm Olsen's Salvage) and as you can tell I stayed home from school the day they told everybody about punctuation but its ok this car has all the following awesome features: (gasp)
Engine:

Factory L-88 455 crate engine boarded up to 469
High ferritic iron block line board and personally decked by Mike Tyson. Internal specs not available but very radical
16-valve 7H1 Heads (I was told they're as good as ram air 5)
Manly valves…nothing sissy about this engine
12 bolt mains
Double roller crankshaft bored 30 over with 77 Levite bearings
Jessie Jackson gear drive (noisy type)
Playtex stud girdle
Aluminum hypoallergenic pistons
Rolled and Pleated Piston Skirts
Owens-Corning Pink rods
AARP Rod bolts (good for discounts at the Cracker Barrel)
Quadrajet spredboard double-pumper bored out to 600 CFM
Lee press-on freeze plugs (shotpeened)
Knurled cylinder walls
3 angle 360 degree 15/16th Lunatti camshaft
6:1 Rocker arms
39 Valve Lashes
Heavy water cooling system
Andy Griffin Radiator w/4 flues and superheater tubes
Great Balls 'O Fire spark plugs
9mm Hollow-point plug wires
Dual-point, HEI distributor
Rare intrinsically safe non-sparking low-sulfur battery
W72 High-torque alternator - Rare!
Kaleco Anodized Muffler bearings
Won't start right now, needs new celynoiud
Transmission:
Hurst 4-speed close-ration Super T-22 "Rock Crusher" with 300 horse stall converter
Lakefront exploded bell housing
Low Friction Clutch
His 'n Hers backhand slap shifter with pistol grip
Ford 9" drive shaft
Exhaust:
Ported and polished stainless steel Jimmy Walker Dyn-O-Mite mufflers
2-1/2" aluminum Barbara Mandrel bent tailpipes
Rare factory cast iron manifolds
Suspension and brakes:
WS6 Super Trans Am R model Mark IV - Very Rare!!!
Radical Tuned Suspension - Extremely Rare!!!
31 spline 4.11 Horatio ring and pinion steering box
Kaleco crossdrilled brake lines
"Smith&Wesson 44" Calibers
JL8 3 wheel disc brake option (one of the calibers locked up)
Shotpeened brake rotars
New tyrode ends
Polynesian graphite suspension bushings
9 bolt rear end (one's missing) with Jackie Gleason posi, 5.38 gear ratio and strange axles (never seen anything like them).
If you prefer, we will swap in a Romans 3:23 Open Bible carrier
Y84 Super Bandit High-speed balanced and blueprinted spare tire - Real Rare!!!
Wheels: General Mills Honeycomb flakes (turns your milk code 55 Special Edition Gold)
Optional set of Draglite welded racing wheels for drag racing.
X-rated Road-Rash radical tires with raised white outline capital Cyrillic letters.
Body:
All Steel!!! Rust Free - All rust covered with Bondo at no extra cost
Shaved high-intensity halogen taillights - and it's all factory!
Powdered metal full race aerodynamic floor pans, sheep-dipped
Billet windshield with Frenched internal radio antenna
10 point roll cage (adds 10 points to your driving record)
Wire-reinforced rear window
Drop-forged title (says it's for a Camero)
2X magnification side-view mirrors
Ferric oxide powder coated undercarriage
Has a dent in the trunk lid from the mechanic's lean on it
Enron Solar Gold Paint
One of the spoilers is missing but most people don't even notice
Interior:
Rare factory fur-upholstered prism-effect gauge Beeziel or whatever that thing is
Braided stainless steel carpet
A/C works perfect except has no compressor. Air blows ice cold (in January)
Hoghead cloth seats with seat frame cracked where Brian showerd down on it too hard
Genuwyne leather Morelock-hide door panels
Double-Hump Camel Tan interior - Very Rare!!!!!!
Gold smoke tinted mirrorred engraved anodized galvanized airbrushed sandblasted Hurst Fisher T-tops - Ultra rare for a convertible!!!
Jim Rockford Fosgate Stereo with 25 amp booster cables
This car originally came with a CD but it was cashed in years ago
6 x 9 speaker holes bored 30 over to 6.030" by 9.030"
One power window!! Incredibly Rare!!
Terms and Conditions:
This Rare Y-88 Convertible will listed on ebay soon so apply for a second mortgage now! If you feel we've quoted you, congratulations and keep those quotes coming!
Our most ambitions April Fool's to date was 2005. Click Here!
Fun Ebay Pictures
Occasionally, folks will put pictures on ebay that are just begging for a caption. I don't know why they don't think about how these pictures are composed, but I guess I've been just as guilty. Anyway, here they are, with apologies to the photographers...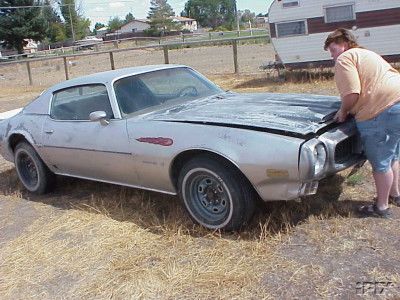 Using a hidden camera, Lyle eventually discovered where Freda hid the doughnuts.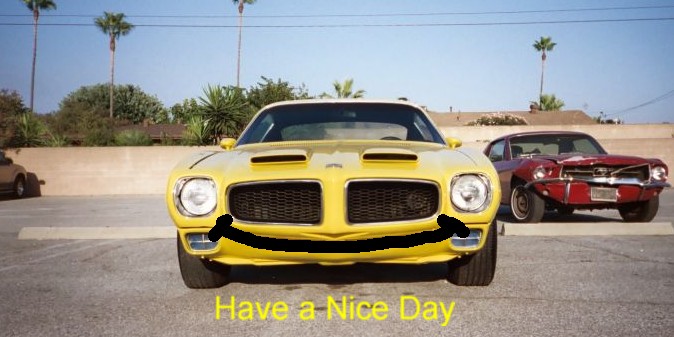 Looks like this Mustang didn't know when to shut up.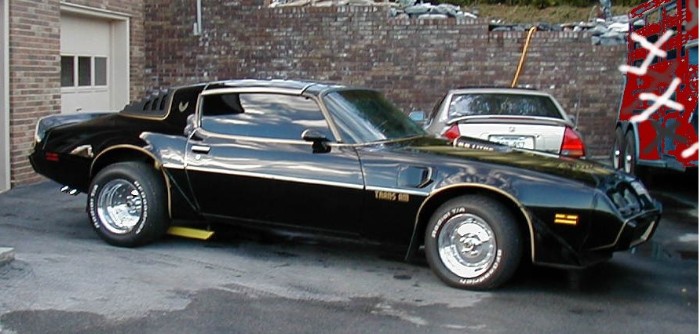 Hey Bob, the 70's called, they want their tires back!!" (acutally Joe took this picture)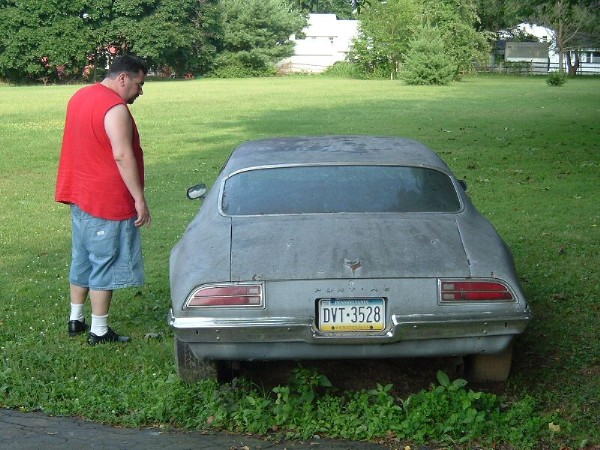 Although it broke his heart, Leon eventually sold his beloved '70 Firebird to pay his way through fashion college.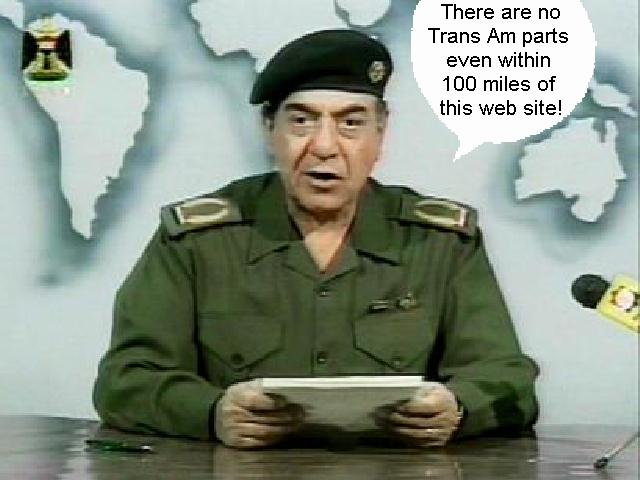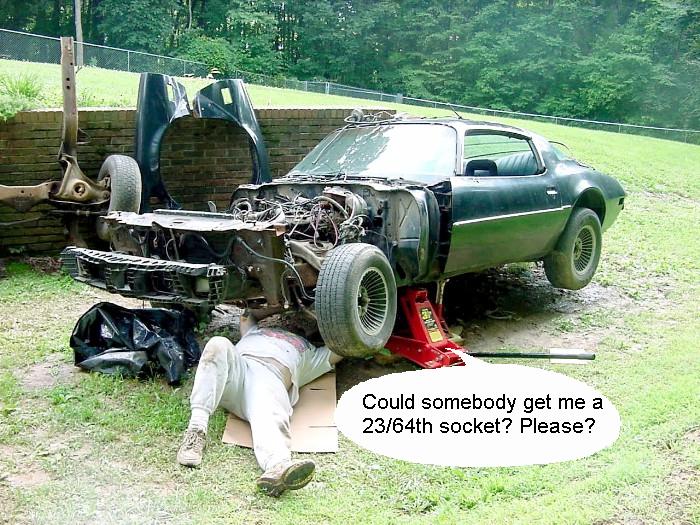 We used a few of these for a caption contest a few years ago: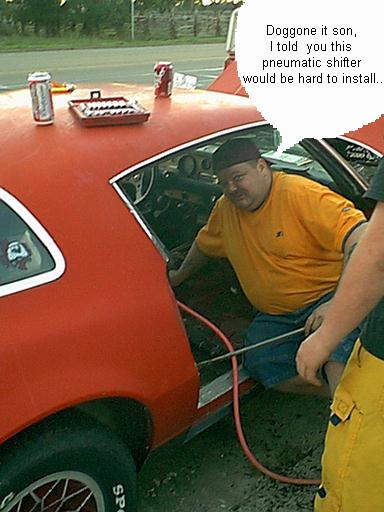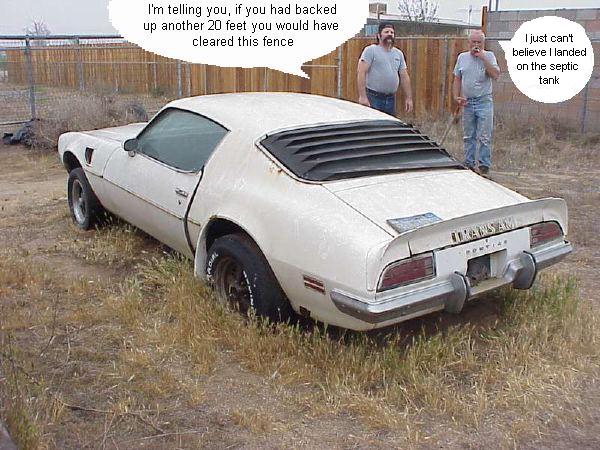 Hoghead's Dr. Enuf Commercials
| | |
| --- | --- |
| We can't stop making these pictures poking fun at the recent commercial. For a while we rotated them on the "about us" page but I decided to pile them up here. You might be amazed to know that Mountain Dew was first bottled here in east Tennesse. It was marketed regionally until about 1965. You might be surprised at how it was marketed. You can read about it at Mountaindewbottles.com. In our pictures we actually used Dr. Enuf, which is the main product of the company where Moutain Dew flowed first. | |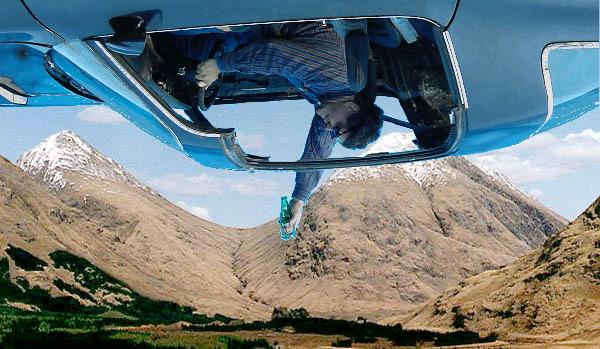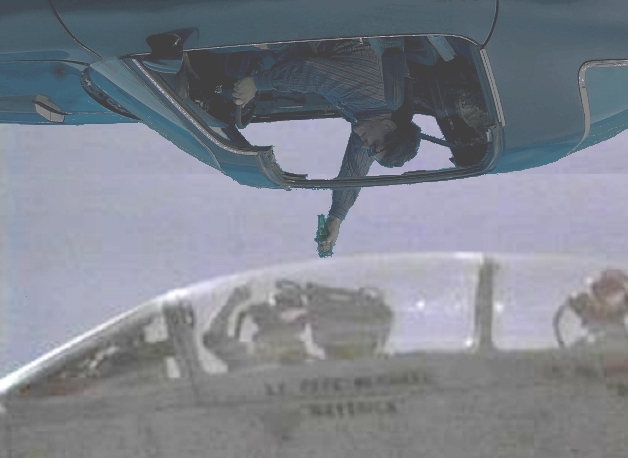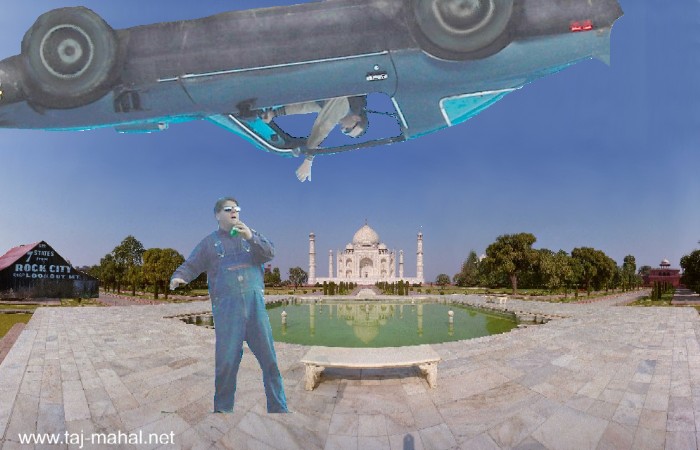 Hoghead's Top 10 Uses for A Killed Trans Am
#10: Barbecue Grill
With a few simple mods, the Trans Am doghouse makes a fine grill, as seen in "Gone in Sixty Seconds." If the Trans Am is still running, you can roast weinies on the exhaust manifold.
Added 11/13/02
---
#9: Redneck Crop Circles
This is a lot easier if the Trans Am is just mostly killed. A few donuts in some tall grain and you'll be the center of extraterrestrial attention. Invite the local UFO fans over. They won't find any footprints, and that "aura" they keep talking about? It's just a lingering trace of carbon monoxide.
Added 12/10/02
---
#8: Landscape Feature
As you can see, a Trans Am is a perfect backdrop for a few specimen plants in a neatly organized garden. You'll be the envy of the whole neighborhood with a Japanese Maple growing out of the engine compartment and a burning bush under each wheel well. Easily add a Koi pond by jumping on the roof, or fill the trunk with dirt for a nifty perennial box. Finding plants that bloom in Trans Am decal colors adds to the fun.
Added 1/7/03
---
#7: Wildlife Habitat
Park a killed Trans Am in the woods for a couple of decades and in no time it becomes a site of incredible biodiversity. Dozens of species can thrive in a single Trans Am, especially if it has Hurst T-tops to let moisture in. Amazingly, this works just as well under water, where a killed Trans Am can serve as an artifical reef!
Added 3/17/03 (yeah, I got behind)
---
#6: Monster Truck Parking
The neighbors will all be talking about how you watch WAAAYYY too much TV when you use killed Trans Ams to park your truck. You don't need no stinkin' lift for two-level parkin'.
Added 3/17/03
---
#5: Scaffold
All the best builders around here know that a killed Trans Am makes a stable and safe work platform. The shaker hole is a handy place to tie off, and it can be rolled from job to job!
Added 6/17/03
---
#4: Portable Workout Gym
Team Hoghead is gonna POMP YOU OPP when you use a killed Trans Am for back, neck, and shoulder excercises. You can even bench press these things, but you better have your life insurance paid up.
Added 7/17/04 (yes, I'm slow, but I'm ooooh so close to being finished)
I know we're still not done with our top 10 (I can't help it, really!) but in spite of that, we are going to add a new section:
Funny stuff found in cars
We'll start off with what has to be the funniest job application ever. Enjoy