1978 Y88 Gold Special Edition Trans Am
(my first Gold Edition)
Quick Facts:

o W72 400 cid engine

o 4-speed

o WS6 suspension package

o 1 of 1267 4-speed Y88's built
In 1982 you could actually stop at a used car lot and find stuff like this sitting on the lot!! At least I did. I was having lots of problems with my 1980 Trans Am (you can read all about at the Team Hoghead Garage) and was wanting to trade or sell it. I stopped to look at a row of 1977-81 Trans Ams and Z-28's at a used car lot. Most of them were automatics. I found a black Z-28 that was a 4-speed, but really wanted a Trans Am. I was just about to leave when I spotted this Trans Am. When I looked in the window and saw the Hurst shifter poking through the console....it was all over. I asked the salesman to get the keys so I could take it for a test drive and they could check out my 1980 Trans Am while I was gone.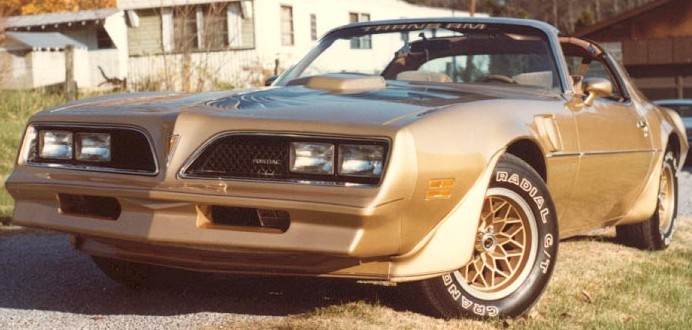 After the problems I had with buying the 1980 Trans Am, I gave this 1978 Trans Am a more thorough inspection. After the test drive, I jacked it up and looked at it VERY closely. So a deal was struck and I traded my '80 Trans Am for the Gold Edition....one of my better trades!! Everyone was buying and installing the aftermarket windshield decals in the early '80's, but I decided to go to the Pontiac dealer and buy a rear spoiler decal and put it on the top of my windshield... you can't beat a perfect match!!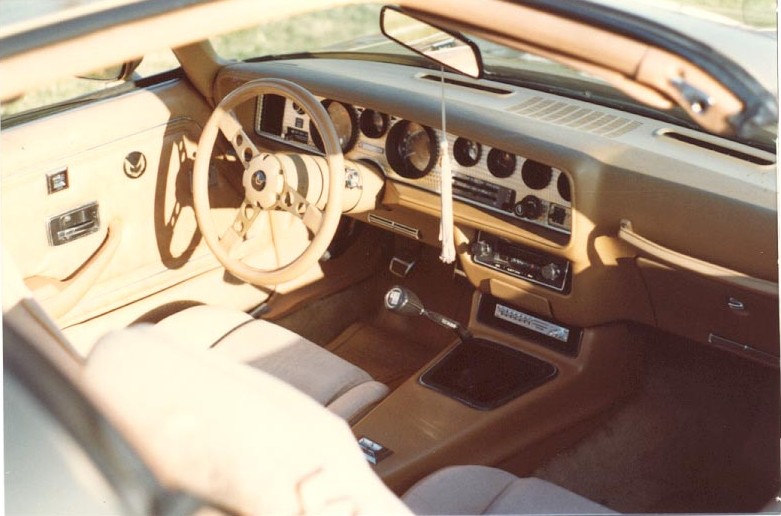 While I was waiting to pick up the Gold Edition, one of my college buddies stopped at this car lot. He wanted to show me something. He had been working through the cooperative education program through college and had some money to spend. He pointed to the Gold Edition Trans Am I'd just bought and said, "You see that Trans Am? I think I'm gonna buy it." I told him that he wouldn't be able to do that since I'd just bought it myself. I did let him drive it a couple of times...
The difference in driving a 301, automatic Trans Am and a W72 400, 4-speed Trans Am is dramatic to say the least. You just look for excuses to go somewhere!! Driving with the t-tops out is fun, but I learned from early experiences that you can get a nasty sunburn and your scalp will "crawl" for days after your hair blowing for 300+ miles with the t-tops out!! The Gold Edition was fantastic for stress relief from college studies and exams.
I entered the Gold Edition in several road rallies and autocross events sponsored by clubs in college. You could run the slalom course almost without having to steer... just stomp the gas pedal, let off, and stomp it again to slide the Trans Am between those cones!! No, it wasn't the fastest or smoothest, but definitely was the most FUN!! Whereas the small cars would use their emergency brake to make a 180 degree turn around the single cone at the half-way point of the course, you could point the nose of the Trans Am toward the center cone, stomp the gas pedal to the floor, crank the steering wheel, and spin right around!!

Here I am ripping up the asphalt during an autocross in college.
Interesting Notes:

1. The gold bird emblems on the door panels were actually wheel centers that someone stuck to the door panel.

2. The Hurst shifter handle was not original, but a Hurst aftermarket handle.

3. For some reason, the grills in this Trans Am were black instead of gold. I don't know if someone painted them, replaced them, or they were installed that way at the factory.

4. The rear axle ratio 3.08:1 with the original 10-bolt posi...it should've been 3.42:1. The 3.08:1 gave it some serious top end speeds.

5. A gentleman made me an awesome set of polished stainless steel door handle inserts to keep from breaking the door pulls/arm rests. I wished that I had kept them.

6. For my senior design project in college, I designed Heim joint (spherical rod ends), chrome moly clutch rods and installed them on this Trans Am. The reduction in friction certainly reduced the effort required by my left leg to release the clutch.

Even though I knew that this was a Y88 Gold Special Edition Trans Am... and 1 of only 1267 4-speed Y88's built, I was just young enough to really ruin the originality of this car. The 400 cid engine gave it up after hard use and abuse. It was replaced with a '70 455 cid engine bored 0.060" to 469 cid. With forged 10.5:1 pistons and heavily worked 6X heads (milled, ported, polished, screw-in rocker studs, triple valve springs, etc.), the compression ratio was just shy of 11:1 which mean distributor work to run on pump gas. A magnum series 292 Competition cam, Performer intake, and Holley carburetor was also used. The engine was balanced. When we first reinstalled the engine and fired it up, we set the idle speed at 800 rpm, but had to bump it to 1200 rpm to smooth it out enough to keep from busting the shaker scoop and tearing up the motor mounts... it was thrashing around in the engine compartment too much at 800 rpm!!

The original Borg-Warner Super T-10 was rebuilt after the new "torque monster" 469 sheared the teeth off the input shaft. Then the original 10-bolt rear axle was tossed in favor of a freshly built, 12-bolt posi rear axle stuffed with 3.50:1 gears. Then the "torque monster" 469 began twisting the body to the point of cracking the welds in the door jambs and causing stress cracks in the "t" section of the roof. Aluminum body bushings were installed, but no subframe connectors. When the 469 was running right, it was simply incredible how brutally fast it was!! But, reliability would become a problem.

With the original 400 engine, the valves would "float" at around 5400-5500 rpm and the engine would lose power. Once I got the 469 engine broke-in, I launched it one day to see what it would do. I then learned that those "anti pump-up" lifters really do work... because the engine screamed past 5500 rpm and went on to 6300 rpm and it was still pulling strong... until I spun a rod bearing!! Thankfully, I shut it down before I did any real damage. We tore the engine down, checked everything, and replaced the bearings. So I had to be careful... it is hard to let off when your pinned to the back of your seat... because it's too much fun!! I had problems with the engine running hot in the summer. I had to sort out the valve train several times trying to get the rocker arm geometry right... and got a few scares... like having the engine drop a valve... thankfully at idle!! I snapped a rocker arm on an exhaust valve and the Trans Am looked and sounded like a steam engine locomotive because the spent gases would be blow back through the intake valve when it opened... which caused a loud HISS and smoke being blown up out of the shaker scoop.

After I graduated from college, I took a job in Georgia. The Gold Edition didn't like the Georgia summers... especially since the engine was bored too much. They guys at the machine shop cautioned me about boring a 455 over 0.040", but I didn't listen. So I cracked two sets of 6X heads and went through several sets of head gaskets. One blown head gasket resulted in coolant filling up a cylinder that was coming up on compression stroke... so when I tried to crank it the next morning, I thought I had a bad starter... but what I really had was a BENT connecting rod and a scored cylinder wall from trying to compress coolant!! So another overhaul was in order and I had to sleeve that one cylinder. Before long, it was back to it's old, ground-pounding self!!

I decided to put the Trans Am up for sale. I really did not want to do this, but could not afford to keep it anymore. I made up a window sticker that listed all of the modifications and

advertised the Trans Am in the local papers. Over the next few months I dropped the price several times, but could not get any interest in it. That's when I learned that people will only buy what they can see. Sure, I had receipts for the $2700 in engine parts and machine work, I had receipts for the rebuild of the transmission and the 12-bolt posi rear axle, but you can't SEE these parts inside of an engine, transmission, or rear axle. And I had built a car that most people really didn't want to drive. I liked it, but most other people didn't... only a few die hard gear heads would enjoy a car like this.

So I had a weak moment and traded the Trans Am for new 1986 Mazda SE-5 truck. The service manager and salesman at the Mazda dealership came out to test drive my Trans Am. It had just come a spring shower and the 5 lane highway in front of the dealership was wet. I told the service manager to ease it out onto the highway before really getting on it. Well, I got one of those, "Yeah right kid..." looks. As soon as the rear tires hit the highway, the service manager stomped the Trans Am in first gear... and did three complete loops before they came to rest in the center lane!! When they got back, the salesman said he needed to change his pants!!

That was the last time I saw my first Gold Edition Trans Am. I still have the build sheet and the original paperwork.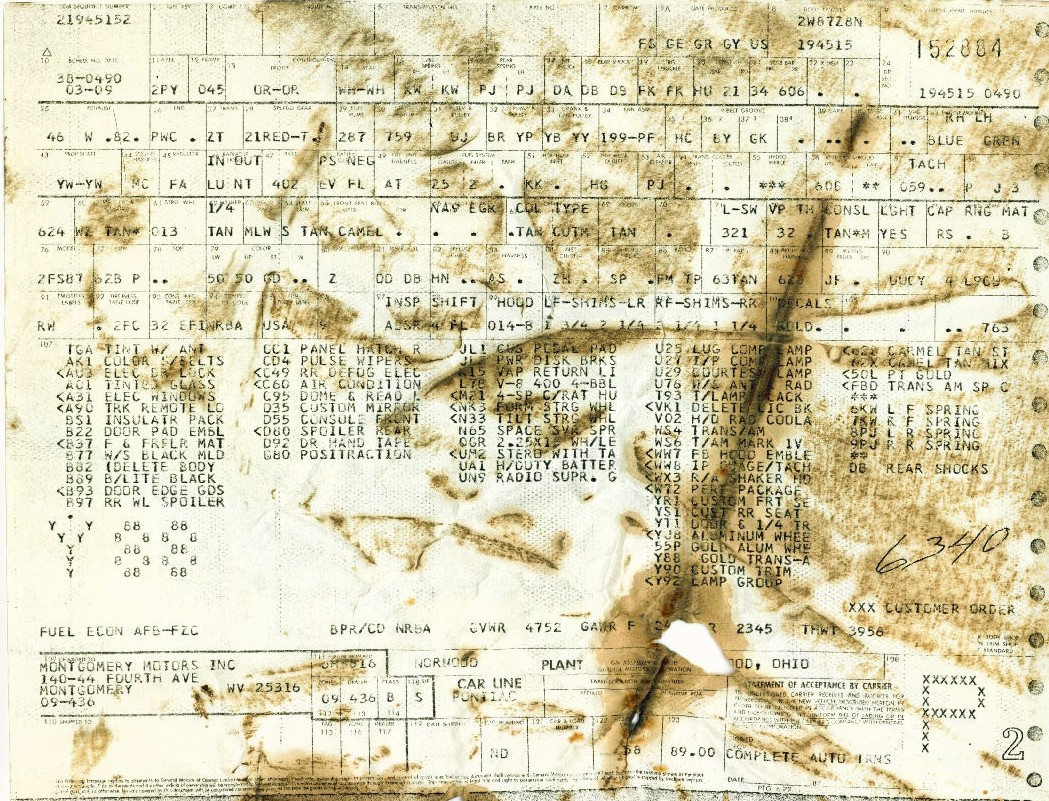 Here's the build sheet from my first Y88 Gold Edition Trans Am. It had a few more options that my current Gold Edition. If you have a Y88 and this build sheet matches your VIN, I'd like to talk to you!!