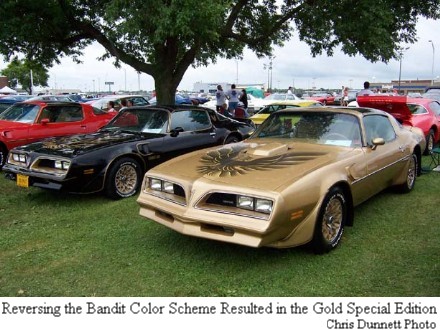 For 1978, Pontiac offered a reversed pattern of the Bandit package using Solar Gold paint with a gold and black hood bird and some other goodies unique to the Y-88 Trans Am. To show off GM's new Fisher roof panels, the Y88 edition used gold colored screening to match the body paint. The pinstripes were dark brown instead of gold. Inside, the Y88 used the same gold appointments as the Blackbirds. A new feature was the complete color coordination of the interior by including the steering column and wheel. A tan interior in a Y88 had a tan steering column and wheel whereas a regular Solar Gold Trans Am with tan interior used a black steering wheel and column. Y88s used gold machine turned dashes, shift buttons and door bezels just like the Blackbirds, which were coded Y84 when using Fisher hatches.
Different interior colors were available in Y88s other than tan. Documented examples using black, red and blue have been found. What hasn't been found yet is a Y88 with a solid roof. The popular wisdom is that Pontiac didn't build one. Released in midyear, sales of the Y88 were strong. Introduced for mass release in winter 1978, the Y88 sold an astounding 8,676 copies before the year ended. Despite this strong showing, Pontiac canceled the Y88 package and reintroduced the original "Bandit" package code Y84 in 1979.
One issue was the Van Nuys assembly plant had switched to an environment friendly water based lacquer paint system. The Norwood plant in Ohio hadn't switched yet. As a result, the Solar Gold paint was troublesome to apply and coverage was uneven on California made examples. Another problem was that an unusual green hue sometimes occurred, forcing dealerships to perform re sprays under warranty. The same form of green hue occurs on vintage Les Paul guitars sprayed with gold from 1952 to 1956. Like the Gold Bird, the guitar was sprayed with lacquer paint and often a green hue developed between the nitrocelluouse clear finish and the actual gold paint. It is a form of contamination. Expensive warranty touch ups and re sprays allegedly killed the Y88 package for 1979. It doesn't explain why Pontiac kept Solar Gold paint as a color choice with only a minor change in code for 1980-1981.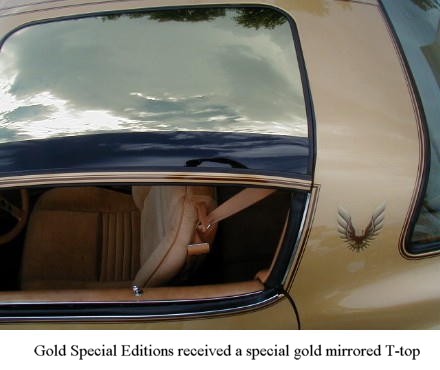 The real miracle was that the Y88 package was released at all. Many know about the late year cancellation due to paint problems. What isn't common knowledge was Pontiac Division's first cancellation of Y88 way back in August, 1977. According to a memo dated August 1, 1977, dealers were advised that gold bird Y88 package was canceled until further notice and that Fisher hatch panels were delayed as well. In the same memo, dealers were informed that paint code 50, Solar Gold was available for order on regular Trans Ams and the kicker, the Y82 package was reinstalled in the order book.
The Fisher hatch version of the Bandit TA would be released as soon as possible. As it turns out in our research, that ended up being in early December, 1977. We'll cover this angle a little later. The important point is the Y88 had teething problems likely associated with the Fisher hatch production. My hunch is it had to do with the gold screening process for the Y88 hatches. Regular Y84 hatches were on stream pretty early in production. We know from various build sheets from the Morelock/Bays archives that Norwood was assembling Hurst hatch cars as late as January 26, 1978. Based on this information, it appears that Pontiac revived the old Y82 concept to take up the gap between Y88 and the Y84 roll out which was delayed into early 1978.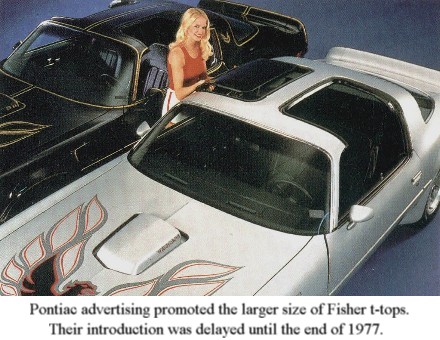 The Y88 cars were assembled as a spring promotion. We believe the Y88s made for the winter auto shows were made in January. We have evidence from build sheets collected by Messrs Joe Bays and Brian Morelock that Y88s were assembled as early as February 15, 1978. Ordinary TAs with Fisher hatches have been found assembled as early as January. They also have build sheets documenting ordinary Trans Ams built with Solar Gold paint as early as February 16, and as late as August 3, 1978. Although the paint was called Special Edition Gold in some paint books, this color was available on regular Trans Ams. It has to have the entire appearance package to be a true Y88.

The "Blackbird" special appearance package also converted to Fisher hatch roofs for the '78 model year. Thus at Norwood, Ohio, the term Y84 was used to distinguish the Fisher hatch roofs while Hurst hatches used the older Y82 code. Early historical information about the 1978 model year for Trans Ams has been found to be riddled with inaccuracies. Production totals on W72 performance package TAs didn't give accurate totals or breakdowns between automatic and manual transmission W72 cars. While the Goldbird was on everyone's mind that year, Pontiac still produced the Blackbird during the calendar year.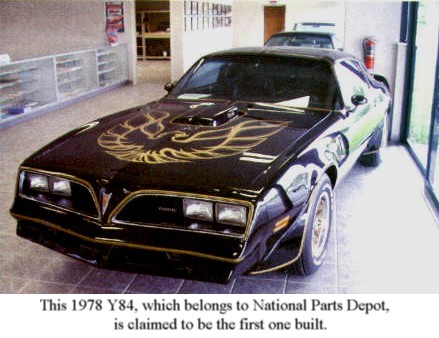 In fact, the first Y84 produced was at Van Nuys, California on December 9th. This car was special ordered and delivered to Prestige Pontiac in Van Nuys. It was presented to Burt Reynolds as a gesture of appreciation for the phenomenal success of Smokey & the Bandit. The car has a solid documented history of ownership including the build sheet, several letters of testimony from the principal owners of the car; from Burt Reynolds' film company, and its second owner, Lamar Jackson. The first Y84 Trans Am is now part of the National Parts Depot museum collection in Ocala, Florida.

We also know that Van Nuys was building Fisher hatch cars through January and February leading right up March 9th, when Y88s were being assembled. The Los Angeles Y88 show car is most likely a production unit from Van Nuys from the late December, early January period. Van Nuys built only 1,090 hatch cars if you include Y88 and Y84 production but production was sporadic with many a Firebird built before a hatch order came through.

While Solar Gold paint and Fisher hatches remained as popular options for 1979, the only Special Edition that year was the Y84 "Bandit." The 1979 SE was available with the Pontiac 400 in very limited quantities. The W72 manual transmission versions totaled just 1,107. The majority of Bandits that year came with the Olds 403 with 9,874 made. The base Pontiac 301 V8 powered only 573 SE's. New that year was the addition of four wheel disc brakes to the WS6 handling package. WS6 started out as a handling upgrade with urethane bushings, thicker sway bars, high performance steering box. Adding four wheel discs improved the performance factor by letting the driver go through tight corners at a better rate of speed. Special 15x8 rims were part of the package.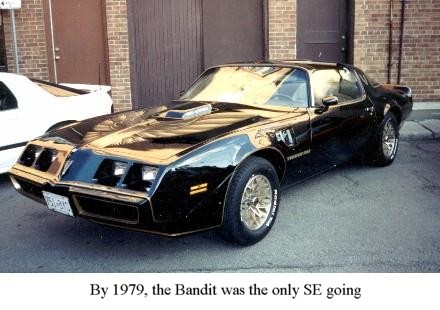 1979 was a major facelift year for the Trans Am. A new endura nose sans grille featured prominently upfront. Cooling came from underneath with forced air from the lower spoiler and air dam. Out back, the licence plate migrated to the rear bumper and a new black out tail light system entertained drivers at the rear whenever you stepped on the brakes. The custom interior group got brand new hobnail cloth seat inserts in four color choices. Pontiac introduced the new Tenth Anniversary TA, a separate model with its own VIN code and silver leather interior. Another change was the use of firebird decals on the B-pillar for all Trans Ams. In 1978, only the SEs used b-pillar decals, the rest used die cast bird emblems. Details like this help identify an early SE car from a clone. Check out the Myth Busting section compiled by Bays and Morelock for information.

For 1980, the SE returned without the beloved Poncho 400 or the Olds 403. To appease performance cravings, a special Turbo 4.9 block with high nickel content, larger main bearings bolts, special pistons, rods and crankshaft with radiused journal ends was manufactured. These blocks differ internally and have casting codes; YL and YT. The engine was equipped with a unique turbo 800-cfm Rochester Quadrajet carb mated to an Airesearch model TBO 305 turbocharger. The Turbo 4.9 was Trans Am's premium engine putting out 210 horsepower and 345 ft lbs. of torque. Other choices included version coded W72 with electric spark control, (how the mighty had fallen) or a Chevrolet 305 V8. The Turbo 4.9 was the exclusive Indy Pace Car engine that year. Billed as LU8, the turbo package was only available with mandatory automatic transmission with air conditioning tacked on. The turbo hood lights although heavily promoted in print ads, were pretty scarce options on 1980 turbo TAs. We know of an example built as late as May 1980 didn't have this mandatory option. The question of actual availability has been in question and until recently, was a matter of debate.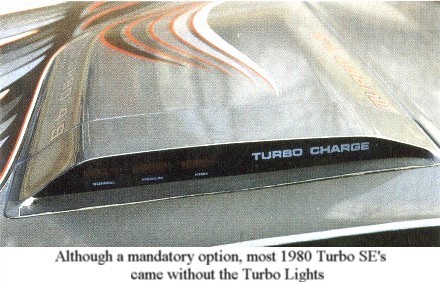 After finding a 1980 Indy Pace Car built just 303 units later than a 1980 Turbo SE at the same plant, we are able to determine that UR4 turbo lights were available, but reserved for Indy Pace Car production. This would hold off supply until the entire 5,700 run of cars was reasonably close to completion. This suggests that any 1980 turbo bird with the hood light package is rare.

Other new equipment included a turbo mag designed for turbo cars with WS6 brakes only. By November, 1980 this restriction was dropped so that California buyers could get turbo wheels. Since the Turbo 4.9 wasn't available in that State, a lot of sales would've been lost. Pontiac allowed turbo rims on Chevrolet 305 equipped Trans Ams. Another new option was a four speaker stereo system and something resembling adequate amplification. It didn't stop audio buffs from ripping it out and putting in their own favored systems as the golden age of car audio took flight. It was a concession to changing times as were "unleaded gas only" stickers. Other new SE items included gold engine turned shifter plate and unique turbo hood bird with five color graphics. Early in the year, the SE lost the famous gold tinted steering wheel. Production of gold painted Formula steering wheels was terminated November 20th for the Yellow Bird package and it is believed the SE package was included.

Production of 1980 Bandits was 6,178 cars, the majority of them were T-tops. The rare versions were the non T-top Y-81 cars with the turbo engine production resting at 103 cars. The other rare SE was 305 Chevrolet equipped with production in the low hundreds. The Chevy engines used the shaker hood scoop while turbo cars used a unique off set power blister hood.

For 1981 Pontiac promoted the Bandit edition with Burt Reynolds posing with the car in printed ads. A movie sequel had been made using the new Bandit. For stunt work, Hal Needham equipped the turbo with a nitrous oxide system by Marvin Miller Systems. The 1981 Bandits offered the same engines although the turbo mill lost ten horsepower due to a Computer Command Control module that regulated fuel economy and emissions. Inside, the tan interior was modified to include chocolate trim such as the dashboard, console and steering wheel. There were 5,263 Bandits made, most of them were T-tops. Only 121 Y-81 Bandits were made that year. The SE Trans Am created motoring excitement for a generation of enthusiasts. Today they're among the most collectible second generation Firebirds with very strong support in the United States and growing interest abroad.